Meet Lorraine from Canada and the story behind her Sportymaps prints.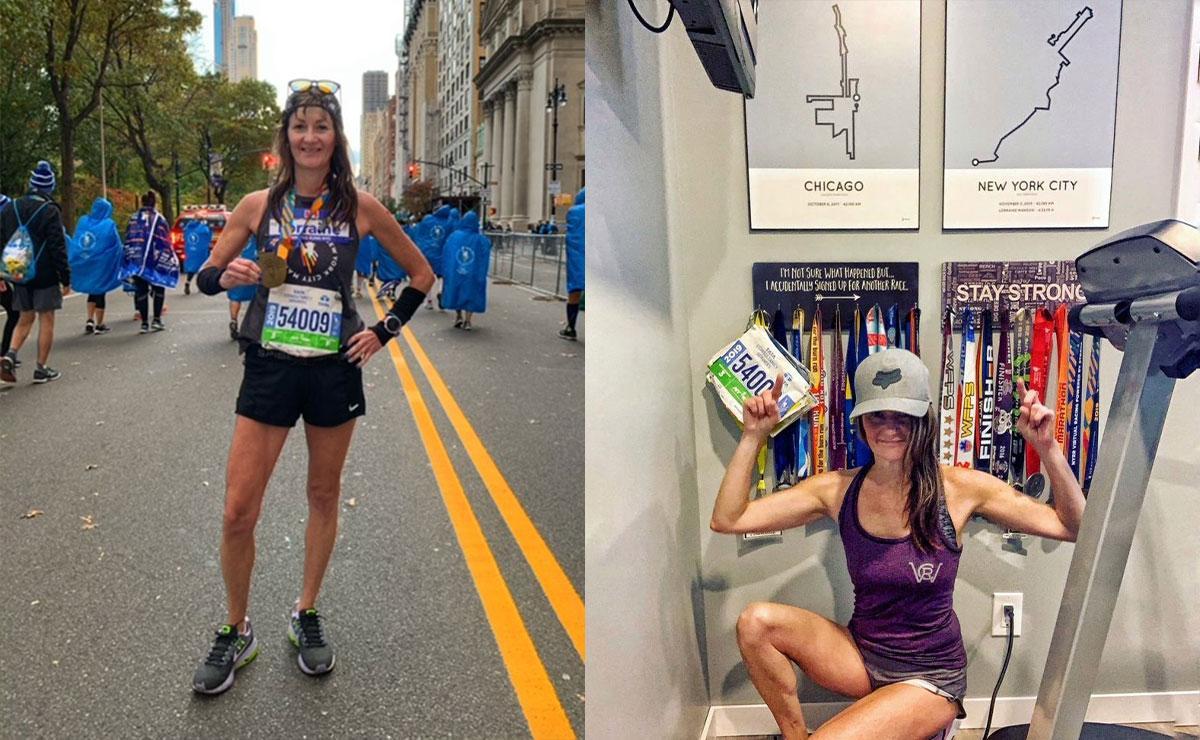 Do you remember when you started running?
I grew up thinking I wasn't really good at anything.  School, sports, you name it.  Just kind of got by, floundered, flew under the radar with no direction.  Then one day, years later along came my beautiful daughter.  With young innocence she asked me to run a 5k with her for a school function.  I had never really run before, and the thought of it was daunting and I doubted myself.  However, I wanted to do this for her and with her. So, I laced up. I ran and instantly fell in love. The fire in my belly exploded and I discovered what I had been wanting and waiting for my whole life.  The sport of running and everything that came along with it.  Confidence. Strength. Health. Clean eating. Opportunity. Community.  All of it.  From that day forward, I no longer flew under the radar. I became a runner.
By now you have 2 marathon course posters on your wall in your home gym.  Do you remember when you first got to know Sportymaps?
I first came across Sportymaps on Instagram and immediately knew that was how I wanted to memorialize my two major marathons. The posters achieve a minimalistic look, and clean lines, without taking away from its significance.
Why did you want to commemorate your running achievements with Sportymaps?
I wanted to commemorate my two major marathons, Bank of America Chicago Marathon and TCS New York City Marathon. They are achievements that remind me of my aspirations that pushed me to go beyond my previous limitations. I never thought I'd ever be a marathon runner and then, one day, found myself running marathons on the streets of Chicago and New York City!  I think of that every time I see my Sportymaps of how far I've come as a runner and as a person.
Do the posters in your 'paincave' motivate you when you're sporting at home?
I have my Sportymaps posters strategically hung on a wall in my 'paincave' so I can see them when I run on my treadmill along with my finisher medals. They serve as my badges of honor.  They motivate me as a reminder of all training runs and races I overcame and conquered.  Reminding me, that I am strong, committed, and capable of doing hard things.
Are there any other sports you combine with your running?
Running has also inspired me to incorporate other sports into my life.  Strength training along with free weights which in turn benefits my running.  Also, I cycle, paddleboard, and look forward to adding kayaking to my activities this summer. In addition, believe it or not, the sport of running has also led to a love of muskie fishing because it gave me the confidence to try new things and the drive to follow through.  I've been "hooked" ever since.
Do you have any sportive goals or plans for the future? Something you are training for?
As for all of us, COVID-19 continues to implicate travel and in-person running events.  The anticipation of a destination marathon really motivates me during the months of training leading up to it. I really look forward to getting back to that.  In the meantime, though, I keep focus, keep running, and stay strong.
Lastly do you have any tips for runners who have a problem staying motivated?
I think a primary way to stay motivated is to remind yourself why running is important and significant to you.  For myself, my running journey and its importance has morphed into different reasons through the years but there was never a time it was not important.  Remind yourself why whatever goal you set is a significant achievement and never lose sight of it.  That will keep you going.
Running gave Lorraine also the confidence to try new things like muskie fishing.